The History of Devon Church
An interdenominational church, Devon has experienced many changes in its location and in its congregation, but not in its mission to worship and serve God.
In March of 1946, the last of the ten major U.S. internment camps were closed, and the former Japanese-American internees were free to leave. Many no longer had homes to return to and had decided to relocate and start their new lives in Chicago. Originally named the Japanese Church of Jesus Christ, its congregation consisted mostly of these Japanese Americans.
In 1946, the Elm LaSalle Bible Church agreed to rent their facilities to this Japanese American group. They held their first service on August 4, 1946, with an attendance of 63 people. The founder, Rev. Andrew Yoshimatsu Oyama, became its first pastor, officially establishing it as a church on September 8, 1946. Four people were baptized in the church that month.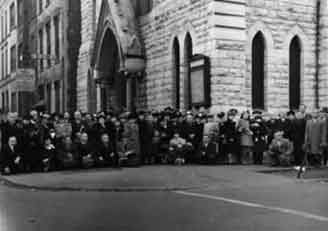 Elm LaSalle Bible Church
Four years later, they were able to save enough money to purchase their own church, and the congregation moved to 1400 W. Chicago Ave. With their own building, they were no longer restricted to using the church only on Sundays and held their first mid-week prayer meeting. Although regular Sunday serviced began on June 4, 1950, the building dedication was held off until August 6, 1950. Nearly 1,000 people attended that service.
As the congregation grew, members who spoke English voiced their desire to have worship services in English. So in 1953 an English department was established.
Working on a part-time basis, Rev. George Toda became the first English pastor. The opening of an English speaking section at the church provided the opportunity to invite friends who didn't speak Japanese. This allowed the congregation to grow and include people of non-Japanese descent.
During the 60's the Japanese American population in Chicago began to move northward. In response to this, the Japanese Church of Jesus Christ sold the building on Chicago Ave. in 1962 and made preparations to move north. Rev. Oyama, Rev. George Brady, Sakuichi Hashisaka, and Ken Hirata were key figures in finding the empty lot where our church stands today. It was an ideal location with public transportation available nearby. This became the first church ever built by Japanese Americans in Chicago. Although the first service was held on Easter Sunday of 1966, the dedication was not held until September 8, 1966.
With the continued growth of the English department, the decision to change the name of the church was made, and the vision to include people of other ethnicities as well as the Japanese took a solid step forward. So in 1968 the name was officially changed to the Devon Church of Jesus Christ.
In 1974 the founding pastor, Rev. Oyama, retired and Rev. Kei Satoh took on the responsibility of being the sole pastor of the Japanese congregation.
The present English congregation's senior pastor, Rev. John Carlini, began his ministry here in 1990. Under his guidance a strong discipleship program was begun and many new leaders in the church have emerged. His philosophy is that church ministry belongs to the congregation and that lay people are capable of ministry. Through the years Devon has become a multi-ethnic and multi-cultural church and Rev. Carlini sees Devon's future headed in that direction. He sees Devon becoming light and salt to the neighborhood that will lead them into a loving relationship with Jesus Christ.